Real Estate Agent Website Design: IDX, RETS, SEO & SMM Marketing
The Key To Successful Real Estate Marketing Is A System
The 90% Rule:  Your Real Estate Agent Website Design & SEO Needs To Be 100%
According to a joint study by the National Association of Realtors (NAR) and Google, 90% of all new home purchases will use an online search for their next home.  You read that correctly 90%.  Here's another one of those mind-numbing statistics for you.  According to a recent study by Chikta, 88% of all Google users STOP on the 1st PAGE.


This study on internet usage to buy a new home is from two very trusted names in the Real Estate world.   And, it explains why the marketing considerations of websites for realtors is so critical.  When you think about the traffic or potential traffic that your site could garner your business, you want to make sure that you have the best real estate website available.  We have custom IDX solutions that will make every listing on the MLS work for you.   Finally, as an IDX provider for your site, we can make your listing flow to social media and other advertising channels giving you a seamless online marketing program.
Real Estate Agent Website Design & Development Means Location, Location, Location – On Google!
If you're a Realtor or a real estate agent, this should speak volumes to you and your marketing plan.  Here's the Cliff Notes version of it:  1)  I better have a good website; and, 2)  I need to do everything that I can to get on the first page of Google.  Simple enough.  Simple enough to understand, yes.  But, this is not so simple to do.
SEO For Realtors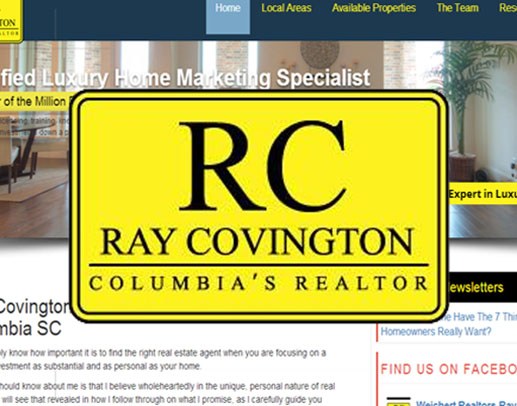 I'm starting with this abbreviation first and working backward.  SEO stands for search engine optimization.  This "optimization" is the process for having Google-like and rank your website above your competitors.  It is one of THE MOST IMPORTANT aspects of having a site; and, little else will matter if you fail to be ranked on Google.  If you need a reminder of just how important this is, reread the opening statement.
When the term SEO is used, it is referring to "organic" search engine optimization.  That means as opposed to "paying" Google for an ad (PPC or Pay Per Click) that you structure your website in such a way that Google rewards you by giving you a high ranking.  There are many nuances to Google methods for which sites are rewarded and punished; but, suffice it to say, there are specific methodologies that have proved very successful at getting Google to do both!  This expertise is why you want to be very, very careful about whom you choose to provide these services to you.  The internet is full of rogue companies for SEO services.  These companies may get your website banned from Google for life!
Here's some more great news!  There is no play-book.  Google is all the time changing its algorithm on how it ranks sites.  It often turns not only the factors to rank sites but the weighting of each of the elements, etc.  It is very complicated.  And, it takes an ongoing commitment to do well at it.  The "ongoing nature" of this commitment means expensive!  Pure and simple, SEO is costly concerning TIME and MONEY.
SEO for Real Estate Agents Equals Google Success
A significant factor of Google Success for your Realty business will be identifying profitable areas or specialties (a particular neighborhood, a specific city or a type of specialty like foreclosures for example).  That's where our unique programming capabilities and marketing expertise can help.  Unlike many website development companies where a design company builds your website then chooses an off the shelve solution like IDX Broker or Diverse Solution for your listings, we are a custom programming firm.  We develop your MLS (IDX) Listings directly into your website where your website can derive the maximum benefit (see an example of integrated listings here now Google:  Regatta Point Lake Murray or Regatta Pointe Irmo SC, etc… ).  This methodology helps Google discover and rank your pages by pulling relevant and current listings directly from the MLS onto your website!
To be successful over the long-term will require ongoing content to be added to your website.  We make this as painless as possible by editing, indexing and helping with the "technical writing"; but, it will require an ongoing commitment from you (time).  We will need about 1-2 articles (300+ words about your focus area that you want to rank well for).  Then, we will edit, title (for Google), identify the keywords, and handle the submissions to Google.  This effort takes time on our part which equates to money for you.  How much time and money obviously depends on the competitive nature of the search engine (focus area) that you choose.  Sometimes the job can be done for $40-50 a month per term.  Sometime it will take hundreds, or even thousands, of dollars per month to move the search engine needle.  But, we will give you an honest appraisal of what it will take to be effective and the cost of doing it.  A word of caution here — no one can guarantee you a first page or #1 ranking on Google, period.  But, we can give you both methodology and measurement tools so that we can monitor it and judge our effectiveness.
IDX WEBSITES & RETS Feeds:  Customized Listings & Results
We can build a customized website that allows you to choose the critical areas for the way you do business.  And, whether it's an interactive map or a particular search capability, if it's in the MLS (and they allow vendors to access it), we can include it on your website.  We can "create" areas unique to your site (by combining streets, cities, resorts, etc…) to give your users a truly unique experience.  Most importantly, we can create a website that will allow your website user to prefer your site over all the other competing website out there (to see our unique websites and designs, click here).
Award Winning Real Estate Websites
Let's talk!  What have you got to lose?  Our initial consultation and website review are free.  And, no matter what, you will gain some incredibly valuable insights about your current online marketing.