Website Design, SEO & Marketing For Your Charleston SC Biz
We've been designing websites in Charleston, South Carolina for almost two decades.  Yes, Charleston really is different.  And, we understand the differences.  More importantly, we know how to capitalize on them.
We understand the unique needs of the Charleston SC marketing.  And whether you need a website for selling real estate or a site to promote your business to tourist, we can help.  Our SEO programs can help your business appear on Google and other search engines so that fo
Digital Marketing:  SEO & Social Media for the Locals & Tourist
If you're selling locally or capitalizing on tourist traffic, you will need the unique skill sets that we have to drive people to your website.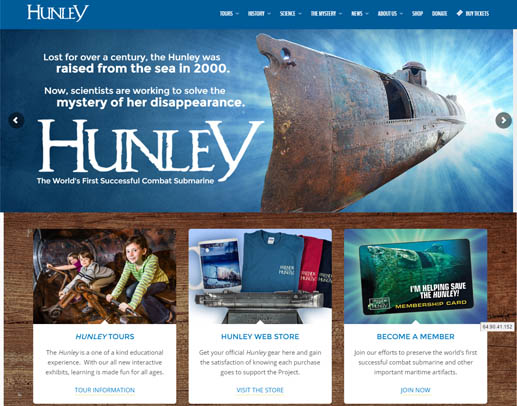 Local Charleston businesses like Realtors, professionals, business services firms and tourist attractions have honored us with their business for the last two decades.  Of course, when you're talking Charleston, two decades is hardly any time at all.  That's why companies that understand the accurate measure of success is longevity know that we are a long-term partner for their marketing needs.  They know that they can depend on us, today and tomorrow.  Whether your business is like our client The Sadler Group that's been around Charleston since the 1890s or the Hunley which has been around even longer, we can help you with the latest technology solutions available.  And, if you're just starting up, we can help you there too!
Experts in Charleston SEO:  We Understand the Lay Of the Search Engine Land
As a metropolitan area, Charleston would be a tough SEO market.  As a tourist market, Charleston would be a tough SEO market.  But, combine the two, and one thing is for sure, you had better know what you're doing to have any success ranking well on Google or other search engines in the Charleston market.  If you depend on the tourist trade, the bar is that much higher.  Keyword research, as well as competitive analysis, is imperative if you expect to get your share of this essential Charleston business segment.  Our ability to successfully carve out a niche in the organic search engine market is what makes our work for the Hunley so impactful.  Charleston is abundant with places to go and things to see.  Accordingly, we have to ensure through superior research and execution that we are have impacted search engine placement in critical areas, and we do!
We look forward to helping you experience marketing success of historic proportions.  Let's get started.
Charleston Realtor Site Design & SEO
If you're a Real Estate agent in the Charleston market, we can help you succeed like no other marketing firm.  With a two-decade relationship of working with the Charleston Trident MLS and the best IDX RETS software development pros in the business, we can customize your listings and use the daily property downloads to help you gain significant search results on Google (unlike other WP plugins like Diversified Solutions or IDXbroker).  And, you can design your site unlike the cookie cutter look of many real estate websites.  You will be amazed at how a truly customized website solution can move you ahead of your competition.
Charleston Web Design, SEO & Social Media Marketing