Attention Local Business Owners! Are You Ready to Boost Your Visibility in Your Community?
At Real Internet Sales, we understand the challenges of running a local business. With so much competition, it can be hard to stand out and reach your target audience. But, what if we told you that we have the solution to this problem?
Introducing HERE! – The Ultimate Platform for Showcasing Your Business!
Is your business not receiving the visibility or customers you hope for? If so, now is the time to consider advertising on HERE! sites. Doing this will allow people in your local area to become aware of what you offer and can help expand your business's reach tremendously. In this article, we'll explain what HERE! is and how you can take advantage of it to reach more customers and grow your business.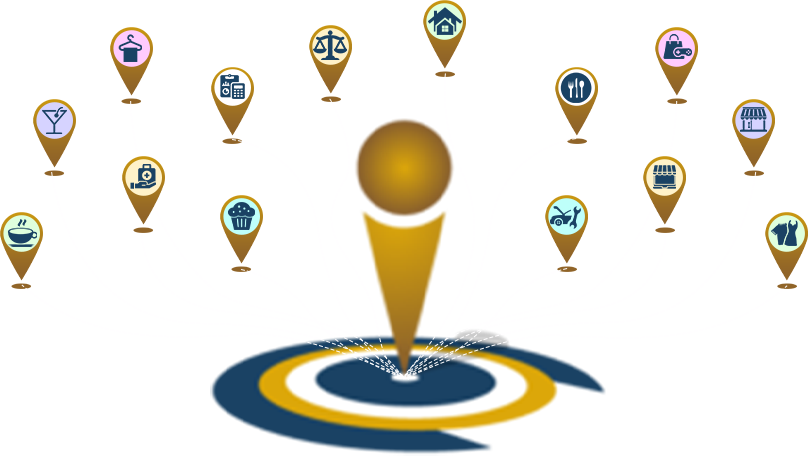 HERE! is a brand that connects local communities and empowers local businesses. With a network of neighborhood-specific websites, HERE provides a platform for real estate professionals, business owners, and community members to connect and thrive. From salons and restaurants to lawyers and automobile dealers, HERE! offers a comprehensive directory of local businesses, making it easy for residents to discover new places to visit and shop. Additionally, HERE features articles on local trends, attractions, education, healthcare, interviews with business owners, and upcoming events, keeping residents informed and engaged with their community.
Why HERE! is the Best Platform for Local Business Owners?
As a local business owner, you know how important it is to get your business noticed in your community. You want people to know what products or services you offer, and you want to attract new customers. But with so many advertising options out there, it can be difficult to know where to start. That's where HERE comes in.
Add Your Business to HERE! for Free
Adding your business to HERE is easy. All you have to do is create an account, provide some basic information about your business and services, and upload images or videos of your products or services. This will allow people to find and learn more about what you offer.
With multiple options available, including a Free Basic Listing for life, businesses can choose the level of advertising that's right for them. From the Basic Listing, which includes a business title, description, and logo, to the Gold package, which offers unlimited business categories, images, and Twitter feeds, businesses can fully customize their advertising strategy to meet their needs. Additionally, businesses can also opt for the Feature Banner, a Homepage Advertisement, which offers even more visibility. With a free trial available for both the Silver and Gold packages, businesses can test the waters before committing.
Maximize Your Reach with HERE's Targeted Advertising
The world of local advertising is undergoing a revolution, thanks to the innovative platform, HERE! This platform is dedicated to providing local businesses with the tools and resources they need to succeed.
By utilizing cutting-edge technology, HERE! targets your ads to the individuals who are most likely to be interested in your products or services. This means that businesses no longer have to waste their advertising budget on generic campaigns that may not reach the right audience.
At HERE!, local businesses have the opportunity to choose from a variety of advertising options, including display ads, sponsored listings, and local deals. This customization allows businesses to create a marketing strategy that is tailored to their specific needs, ensuring they reach the people who are most likely to become customers.
By connecting local businesses with their target audience, HERE! is making a big impact on the local advertising scene. If you're a local business looking to take your advertising efforts to the next level, consider joining the HERE! community today!
Make a Big Impression with HERE's High-Quality Ad Design
To ensure your advertising is successful, it must be captivating and professional. HERE! offers an exclusive selection of top-notch ad design services to make sure your business stands out from the competition. Their team of talented designers is available to create a customized advertisement that meets all your specific objectives and will help you reach success with your marketing efforts.
Climb to the Top 5 of Your Local Business Community with a Feature Article!
One of the standout features of HERE! is the ability for local businesses to be featured in promotional articles. Written by experienced writers and optimized by SEO professionals, these feature articles are designed to increase the visibility and organic traffic to a business's website, all while providing valuable information to potential customers.
These feature articles not only highlight the unique offerings of a business but also include links back to the business's website, providing an additional avenue for increased exposure. 
Check out these examples of the latest featured articles:
By offering these feature articles, HERE! is providing local businesses with a powerful tool for promoting their products and services, reaching new customers, and increasing brand awareness. If you can get a spot on these top 5 lists, your business is sure to receive a surge of traffic and attention!
Showcase Your Business with High-Quality Images and Video
HERE! is an excellent platform to share your success stories and highlight your offerings. Their media sharing feature allows you to post pictures and videos of your business in action. This is a great way to engage with potential customers and show them why they should choose you over the competition.
You even have the opportunity to add a project page to your profile, allowing you to showcase your recent work and highlight the value you provide. This is a great way to demonstrate your expertise, build trust with potential customers, and boost your business!
Affordable Advertising for Local Businesses
The platform is designed to make it easy for you to reach your target audience and to get your message in front of the right people without breaking the bank. Not only do they provide a platform for promoting your business, but also offer affordable advertising options.
For just $35 a month, you can sponsor a banner on one of the articles and reach a wider audience in your community. And, the best part? The introductory prices are even lower, allowing you to try out HERE for a single month or lock in the price for a longer period for even more savings.
Easy-to-Use Platform with Expert Support
HERE! is an easy-to-use platform designed with local business owners in mind. The expert support staff is always available to help you with any questions or concerns and to ensure that you get the most out of your advertising efforts.
Don't just take our word for it. Check out HERE today and see how you can get your business noticed in your area! Try it out, and start seeing the returns on your investment.
We hope this article has given you an affordable local business advertising option that you can use for your marketing efforts.
HERE! local advertising combined with Real Internet Sales Marketing can provide you with the perfect combination for success.
Connect with Real Internet Sales!
Our digital marketing professionals are here to help with all your online marketing needs. Get the most out of your advertising budget and get noticed! Contact us today for a free website audit and consultation.