Dance Studio Website Design
Dance is a visual performance art.  The people who take dance—enjoy dance.  Since its a visual performance art—now here's a real marketing leap of faith, make the website "visual."  I want to stress this simple point a moment.  To illustrate this point, I will use one of our recent dance studio website designs, The Southern Strutt (southernstruttdance.com).  More to  the point, the first thing you get with our team is that we will communicate and understand your business and industry!  In fact, this website was a departure from what the client originally envisioned.  We had to talk them through the rational for the design.  Much to their credit, they were willing to listen and communicate also.  We synthesized what we were hearing, what their marketing needed, and what our research showed us.  And, voilà!  We had a website ready to dominate the market!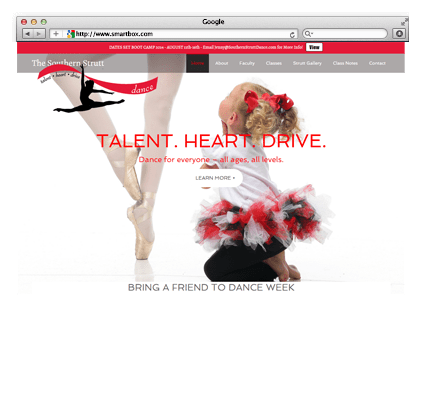 Search Engine Optimization and Google
Once we had the site ready to dance, we needed to find the partners (or clients, in this case)!  The Southern Strutt—the clear market leader—had no search engine presence.  Simply put, when someone went to Google, for example, and entered "Dance Studios Columbia SC", etc…, the site simply wasn't coming up.  What's worse—if that's possible—is the website had no visibility on Google Maps at all.  Obviously, the entire world uses the Google map function on their computers—but, here's the real key—when you perform a mobile search, the maps come up first.  So, not having a presence on Google Maps, is a killer (and mobile is growing)!
Of the estimated 30 billion annual mobile searches, about 12 billion are local searches
With a little work and some key registrations, we watched The Southern Strutt dance all the way to top of the search engines, maps, and pack their dance card!
Social Media Marketing for Dance Studios
Today's social media marketing is a must.  Running effective social media is simply part of the cost of doing business.  For Dance Studios and visually oriented businesses, it's even more important!  Using YOUTUBE.com to actually show performances is highly effective and engaging to exactly the audience your trying to get through the door.
500 years of YouTube video are watched every day on Facebook
Not to mention, parents, friends, etc…love to "share" links with their friends to see their performances.  Accordingly, you open up an entire stream of tangent advertising and a crowd of new prospects.  It's simple. It works!
Final Thoughts on Dance Studio Marketing
So, there's a very brief overview of The Southern Strutt project.  Our work here is ongoing and our goals are changing all the time—with one constant, to get better everyday!  The important thing is the dialog and the commitment is ongoing.
The process starts with a simple contact—provide us with a little info.  Start the dialog.  We will look at your current situation—marketing, social media, competition, etc….  And, for that, we will present you with an plan and several options.  This isn't a hard sell!  We will present you with several pricing points and target for you exactly where your budget can have the most impact.
So, what are you waiting for…you should be dancing!  Contact Us now to move!